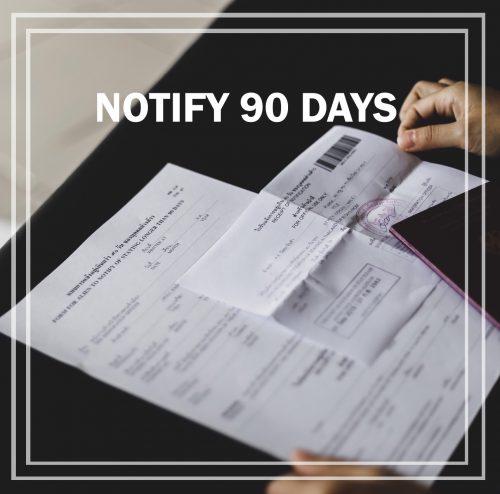 90 Days reporting / Notify 90 days
If foreigner that staying in Thailand for longer period than 90 days, holding a Non-Immigrant visa or Extension of staying, you are required by Immigration to report your current address every 90 days.
You have to report your current address within 15 days before 90 days reporting expires, or 7 days after your 90 days reporting expires. However, if you leave Thailand during the 90 days period, the immigration will start the new 90 days reporting when you re-entry to Thailand.
If you have the following visas obtained in Thailand, you have to go to immigration office for 90 days reporting:
Retirement visa
Marriage visa
Education visa
Business visa / Work permit
Dependent visa
Volunteer visa
Etc.
We provide supporting 90 days reporting at immigration office for all foreigners. We are able to do everything for you, you do not need to do by yourself. We will report your 90 days by our processing.
The required documents :
Passport
Departure Card (T.M.6)
Receipt of Notification (TM.30)
Receipt of Notification 90 days from immigration
Address in Chiang Mai
Thai visa application form
Service 500 Baht
Note
If a foreigner staying in the Kingdom over 90 days without notifying the Immigration Office or notifying later than the set period, you must pay for a fine 2000 baht: will be collected by the Immigration. Moreover, if the foreigner who do not do the notification of staying over 90 days is arrested, he or she will be fined 4000 baht.