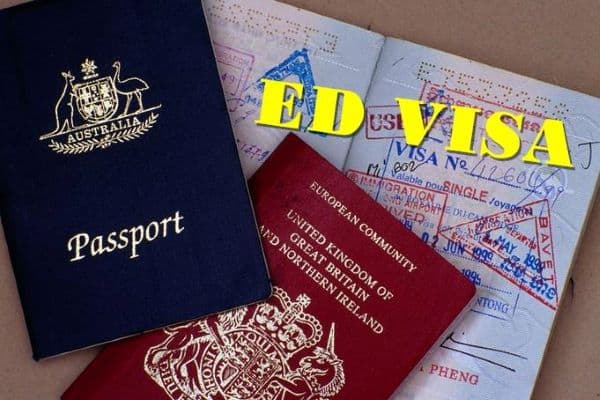 Hand-to-Hand Combat School is authorized to provide students officially enrolling into the Self Defense Program a Non-Immigrant Education (ED) Visa support document for the duration of the program (12 months, extendable).
This means that for students who enroll into the program, Hand-to-Hand Combat School will provide total Non-Immigrant ED Visa support. If you are already in Thailand and looking for a visa option without leaving the country, please see here.
Hand-to-Hand Combat Visa Processing
Once we have received the required documents from you, either you visit our school or send the documents online. We will submit your documents to The Ministry of Education. The process takes 4 weeks, You'll have to do a visa run to Laos (or embassy of your choice, so long as we know) and hand in your Visa Application at the Thai Embassy (takes 2-3 days), After that you receive education visa . You will need to come to school for copy passport for check expiry date.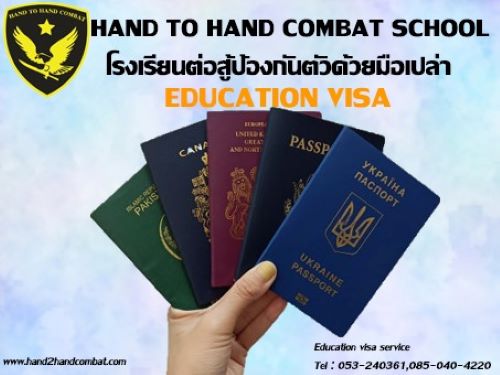 Annual Tuition Fee Includes:
 Policy immigration for foriengner who's living in Thailand, You must have the Reciept notification of your address (TM.30) and update everytime when you leave and comback to Thailand within 24 hours. If you not update you'll have to pay fine for 1,600 baht.
A Visa with Serious Benefits
For foreigners interested in staying in Thailand longer term, without the regular visa hassles, the Self-Defense Education Visa provides fast, easy and convenient legal backing for your permission to live in Thailand. While some of the following privileges are possible with a Tourist Visa, many are not. Once you have an ED Visa through our Hand-to-Hand Visa Agency, you are granted the options to:
Open a Thai bank account
Purchase and sell vehicles – both cars and motorbikes
Receive discounts to Government parks and attractions all around the country
Open a trading account with a broker
Get a Thai driving license – again, for both cars and motorbikes
Allow easier access to a long-term mobile phone contract
Get Thai rather than Farang prices at many venues
Rent an apartment long-term with less concern from the landlord
Valid for 12-months
Self-defense training as flexible as you like, every weekend
No Thai language study, extra curricular work after school hours, or homework
90-day reporting and extensions included
Headmaster is a ex VIP bodyguard, with decades of experience and knowledge from years of training
Learn skills that will benefit you for the rest of your life
Only 42,000 Baht
Thailand's Education Visa in 2021
The non-immigrant ED Visa, also known as the Education Visa is one of the most popular ways to stay longer term in Thailand, while also learning a useful skill at the same time.
Education visas are offered to students who want to study. Courses can vary but the most common option is Thai language study. Student ED visas require regular attendance in schools in Chiang Mai or anywhere else for that matter. That means if you sign up for a 1-year Education visa, you will be expected to attend the school on some occasions. There are varying levels of attendance requirements and testing, depending on what you study and where. The Hand-to-Hand Combat ED Visa is one of the most flexible of all available education visas.
Options to study and get an ED visa, besides studying Thai language, are studying Chinese language, Muay Thai fighting, or attending our self-defense course in Chiang Mai.
The procedure for student visas is different to other visa types. The school or establishment you attend plays a pivotal role. Together with the school you will have to prepare and submit sets of documents before and during your year of study. The issues with visa process of one year education visa are as following.
Not all schools provide programs that allow for the ED Visa, only schools which have been approved by the Ministry of Education. Most foreigners choose a program based on their interests, the area they (want to) live in, and the conditions of the study.
You need to fill out a set of documents with the school. You need to submit copy passport and passport photos and you need to specify in which Embassy / Consulate you wish to pick up the first entry of your ED visa. If you wish to apply for a special ED visa from within the country there is an additional fee that needs to be paid.
If you're applying from within Thailand, you need to travel to a Thai Embassy / Consulate abroad to pick up the first ED visa entry, or pay the additional fee for our special ED visa. Most foreigners in Chiang Mai used to choose to pick up their visa in Vientiane, Laos, because this Embassy is not so far from Chiang Mai, so it did not incur high travel costs. Due to the situation with border lock-downs and the best embassy to travel to will depend on your current location and travel restrictions at the time. Please contact our staff to find out what will be your best option from your current location.
However, if you're applying from abroad, you can save yourself time and money by applying for your ED visa before you enter Thailand. You can then simply pick up the first entry in the country where you are at that moment.
Thailand immigration require that you report to them every 90 days.
About 14 days before your 90 days are up, you should be in contact with your school to prepare documents to report. Some schools are more active and more organized than others. Some schools send admin staff to go with you, others let you pick up the documents by yourself and you have to go alone. If you report later than 90 days, you have to pay a fine to Immigration. It's better to report early and you're allowed to report up to about 14 days before. If you study Thai language, Immigration require you to sit an exam and take an oral test to ensure you are actually studying.
At Hand-to-Hand Combat School we have staff that work from the Immigration Office so we are there on-site to help you when you need to do a report. Due to our close relationship with Immigration, we are often able to bypass the long wait times and can arrange your 90-day reports to be done in under a half hour.
For a 1-year ED visa you need to pay the following fees:
Can I obtain a 1-year ED Visa without learning Thai or having to attend school every day?
You can get the one-year visa for a total cost of 42,000 baht. No more hassles waiting 5 hours at Immigration every 90 days to do your report. No need to spend hours a week studying to ensure you pass the Immigration tests. And you get a whole year, not just the 6 months on the typical Thai Language ED Visa.
The school will arrange to take you to Immigration (they queue in the morning and call you in) and make sure everything is arranged quickly and smoothly. You will be trained by expert Military Police, who have close ties to the Thai Government. You don't have to worry about immigration officers or problems while you are studying with Hand-to-Hand Combat School. You will have connections here with people who can really help you, should you ever need it.
ED Visa
฿
42,000
Twelve Months / Group
If you are interested can filling out the details.
Authorities will contact you back